Numbers Confirm Visual Impact Sydney Success
25-May-2023
The numbers are in, and it's official – Visual Impact Sydney is the biggest and best since the mid-2010s, with some 3,000 industry businesses attending and millions of dollars of business transacted over the three-day event.
Just a few short of 4,000 people were clocked through the doors at the Sydney sign, display and wide-format print expo, with 936 of those from exhibitor teams. Numbers were fairly even across the three days, with just under 1,000 attending on Day 1 – many of them queuing to get in as soon as doors opened – just over 1000 on Day 2, and more than 900 taking the opportunity to attend on the final, shorter day.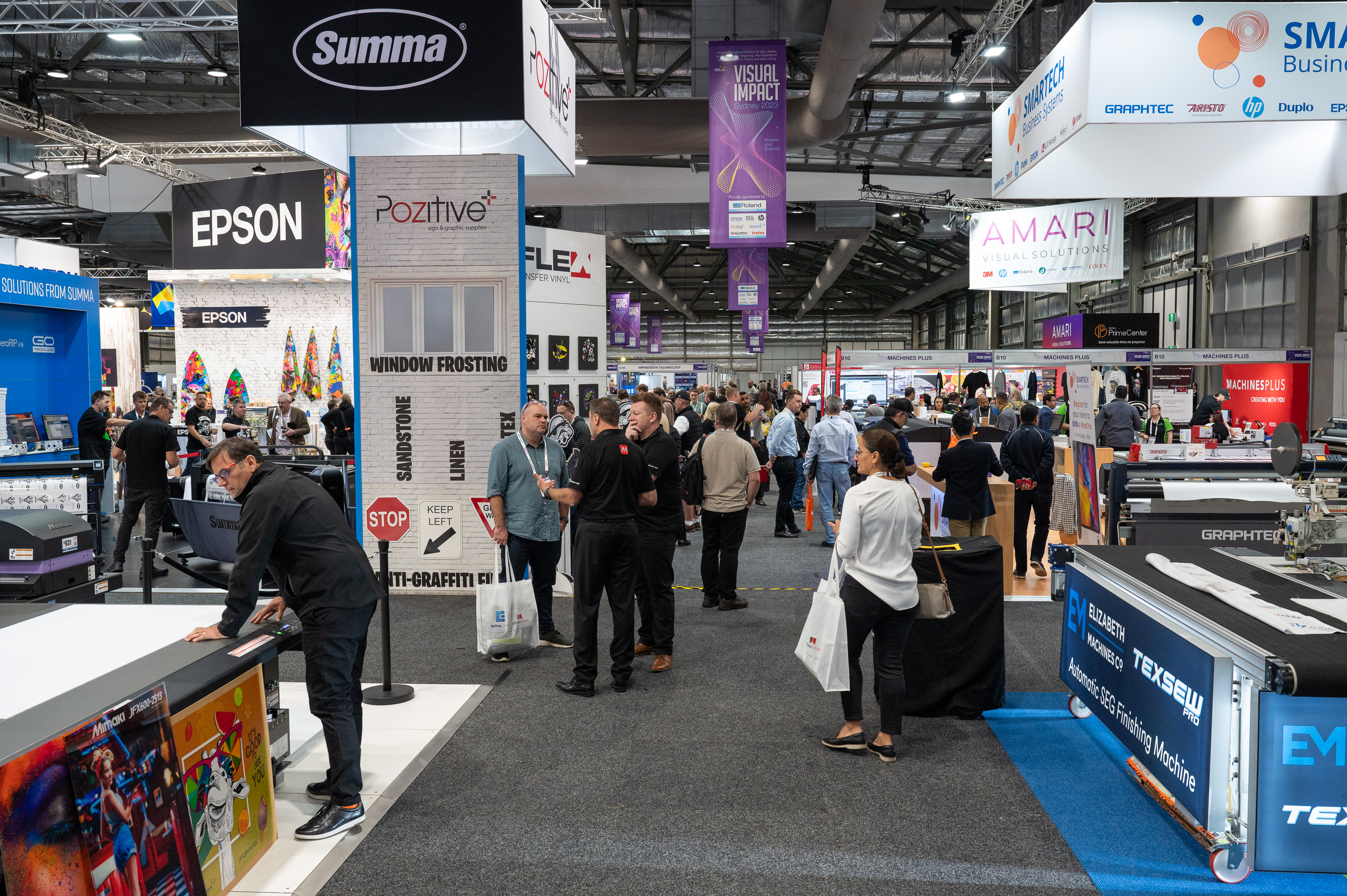 Peter Harper, CEO of Visual Connections who own and run the events, said exhibitors were delighted with the attendance, which was up 10% on the last Sydney show in 2018, and up more than 20% on the 2017 iteration.
"We have said this before, but it's great to get back to in-person events and clearly there's a real enthusiasm in the market to experience all the many benefits of a good trade show," Harper says.
"Exhibitors also reported strong trade during the event and, while a final tally of sales has not yet been done, we already know that number will run into the millions of dollars. Thousands of leads were also generate, with exhibitors now saying one of the greatest challenges will be working their way through those, and meeting the resulting demand, over the months to come."
Some exhibitors, including Wilenco and Mutoh, reported selling all machines on their stands…and more. Lettertech reported selling 'more than we could ever have imagined' and many rated the show as the best in recent memory – Jeremy Brew, from HP, was one who noted that in terms of ROI, it had outperformed even the highly successful PacPrint 2022.
"It is always a highlight of the year to be able to participate in industry events like Visual Impact Sydney, not just to network with colleagues but to gain insight into the latest innovations and developments in the print world," said Ben Carroll, CEO of Velflex.
"We expected the show to be quieter than PacPrint last year but were pleasantly surprised – our stand was a constant hub of activity, the team was run off their feet doing demos and we have been flat out doing quotes ever since!"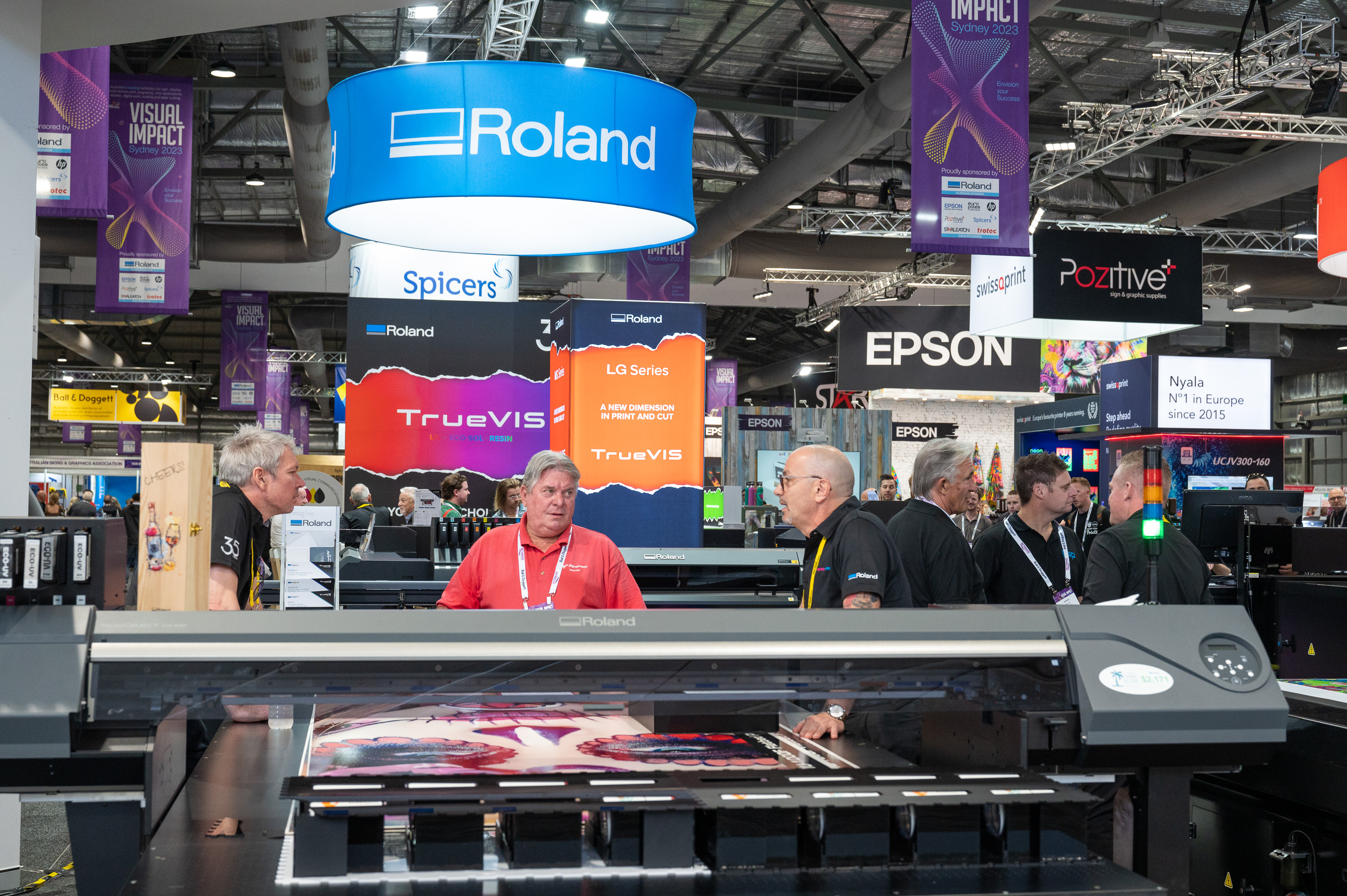 Jonny Rumney from Celmac agreed, saying the show was "a tremendous success' for his company.
"We seemed to have both quantity and quality of people coming through," he says, "and we not only sold several pieces of equipment off the stand, we also have a lot of leads to follow up and I expect to close many of these over the coming few days."
Perhaps the greatest litmus test was how many visitors sought advice on finance at the show, with Marian Taggart-Holland from Ecolease rating it as 'the most successful show we have had in years'.
"There was a good energy in the hall with many attendees being genuine buyers," she reported after the show. "A good sign for us is when we take new finance applications on the stand, because it means people are ready to hit the 'go' botton.
That's certainly what happened at Visual Impact – with the Instant Asset Write-Off ending June 30, lots of businesses are out to spend money on equipment to reduce their tax, and this was very evident to us."
Numerous product and technical experts from overseas manufacturers and local dealers took the opportunity to share their knowledge and provide additional options to visitors, adding a depth to experience at stands like Spicers, Mutoh and Graphic Art Mart, among others.
This was complemented by a program of seminars which ranged from specialist advice on finance and skilled migration visas, to industry insights and tips from the experts.
New initiatives, like the Photo & Fine Art Exhibition, Photography Workshop and Channel Lettering Workshops were also well-received, not only creating interest for visitors, but helping to draw a wider and more diverse group of visitors to the show, exhibitors report.
Perhaps most importantly of all, Visual Impact saw the relaunch of a focused education and recruitment initiative run by Visual Connections and the Australian Sign and Graphics Association (ASGA).
About 100 year 10 to 12 students attended the show to 'Try-A-Trade' at a specially designed booth run by TAFE NSW and Australian Schools & Industry Partnerships (AusSIP). They were joined by numerous apprentices from TAFE looking for career inspiration.
"As we have found consistently, the students who attended the show were blown away by the diversity of our industry, and the range of career options available to them," Harper said.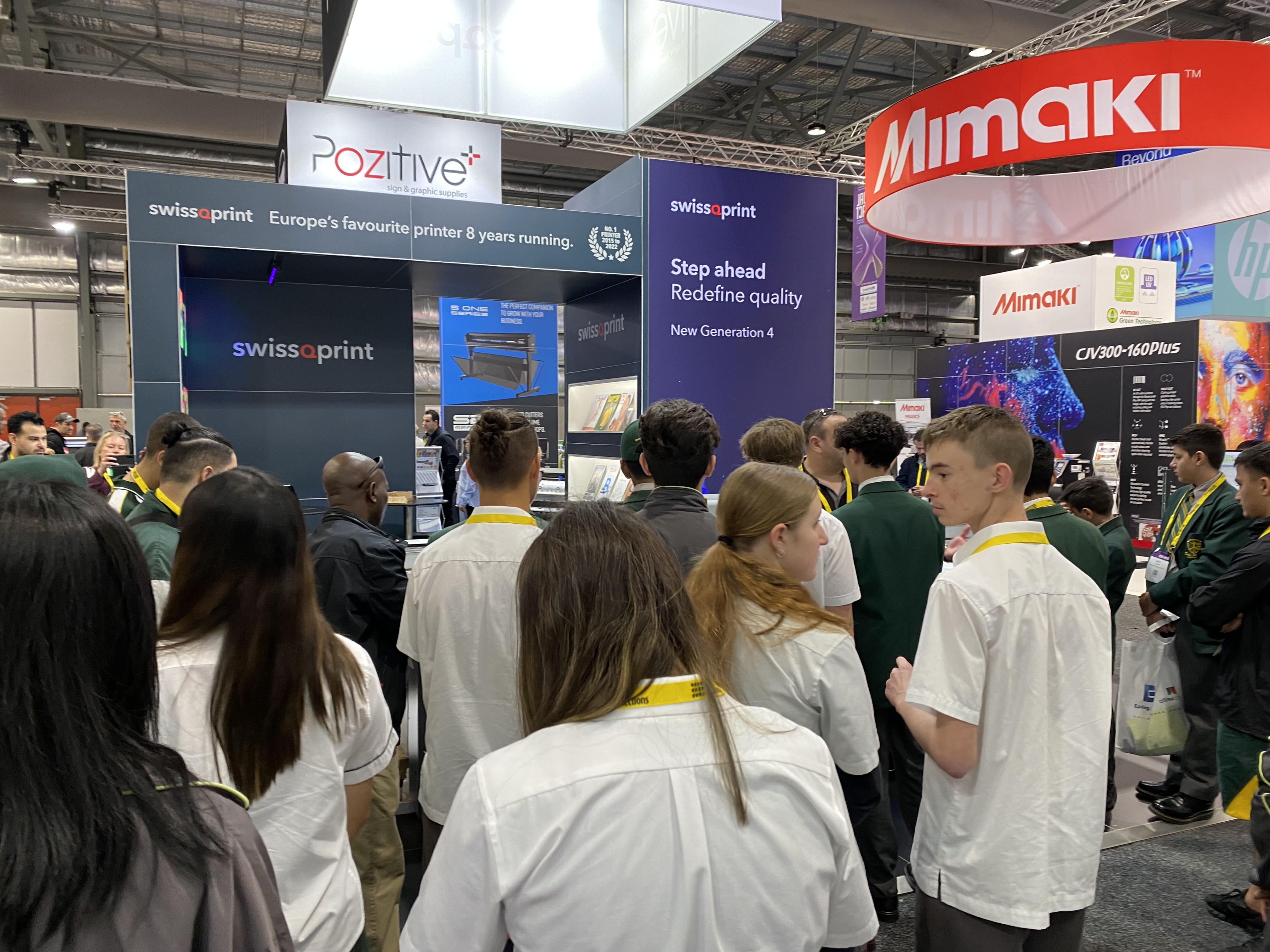 "Being able to get 'hands-on' to try sublimation and direct-to-garment printing, laser engraving, print and fine art printing, channel lettering, vinyl application and traditional hand lettering and brushwork gave them a real taste for what is involved, and we expect to see many of those young people at the Careers Expos we have planned over the coming months, and at our industry 'Taster Days' later in the year."
The path ahead for these students was illustrated too by the presentation of the LIA Graduate of the Year Awards on Thursday night, which saw the winner, Angus McGrath from Note Printing Victoria win the $10,000 Visual Connections / LIA scholarship, with Multicolor Queensland's Bradley Powell taking out the Ball & Doggett $5,000 Future Leader Award.
"We are proud to be a longstanding sponsor of these awards, which recognise the achievements of our graduates," Harper says, further emphasising the commitment of the supplier association to the training and career development of the industry's future leaders.
For Harper and the Visual Connections team, however, the moment to bask in the success of one show is short – they are now already turning their sights to the next industry expo, Visual Impact Brisbane, which will run from `17 – 19 July 2024.
"It's always great to be able to bring suppliers and industry organisations together to do business in a trade show environment," Harper says. "Putting on these exhbitions is a core commitment of Visual Connections because we believe – and we know from experience – that they deliver real value to both buyers and sellers. We are looking forward to Visual Impact in Brisbane next year, and then to the very first PacPrint Sydney exhibition, which will be held in 2025."
For the latest information about Visual Connections trade shows, go to www.pacprint.com.au or www.visualimpact.org.au
ENDS
---