World Supply Chain Pain
03-Mar-2022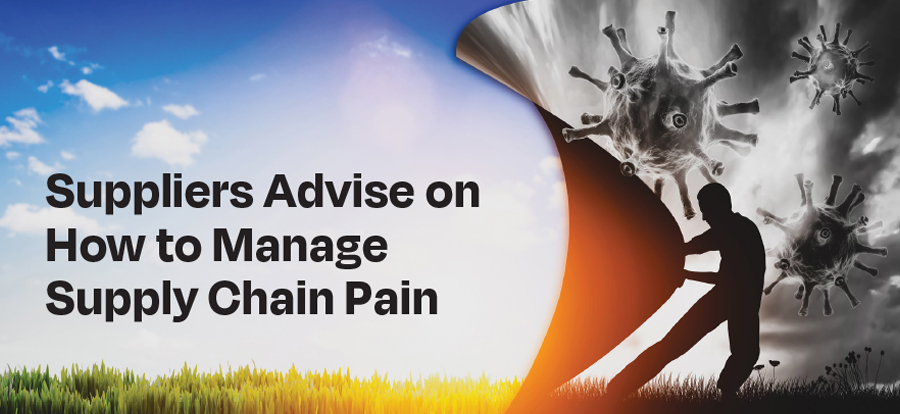 First COVID, and now Russia's War in Ukraine. In an uncertain world, we asked suppliers for the inside word on how the latest developments are likely to impact supply chains, and how you can manage those impacts on your business.
Global supply chains have already been significantly disrupted due to the pandemic and those disruptions and delays look set to persist for some time. Now, with Putin declaring war with Ukraine, that pain is likely to increase.
Peter Harper, CEO of the industry's supplier association, Visual Connections, says the pressure on prices and delivery schedules is very real and very serious, with increased costs of raw materials, ongoing delays and rises in shipping prices, leading to a massively increased cost of doing business for suppliers.
"Obviously, this is having an impact on the price of technology, capital equipment and consumables and our members have been experiencing push-back from businesses who are loath to have to pass costs on to their own customers," he reports.
"While understandable, that approach was already unsustainable given the disruptions caused by COVID. Now, with war in Europe, it's even clearer that businesses have to face facts – and those are that increased costs and delays are here to stay."
It's a bitter pill for many, but Harper says suppliers have some good advice on how to best manage these impacts for your business – and it starts with understanding the factors driving delays, price increases and uncertainty.
An Accelerating Freight Train
Among the most significant factors is freight, with significant increases in costs and reduced availability biting hard.
Russell Cavenagh, Managing Director of Mutoh Australia, says a ~90% reduction in incoming airlines air freight options has pushed a lot of goods onto suppliers like DHL or Fedex, who are charging 'emergency rates', increasing costs massively.
Rising fuel prices are also contributing says Peter Wagener, Managing Director of Euro Poles. "While we hope they're short-term increases which will peak soon, we've seen costs increase from around USD $5000 to more than USD $7,000 per standard 20-foot container," he says, adding that international freight delays of six months or more have been compounded for his company by interruptions to rail freight due to floods in South Australia.
It's a similar story at Ferag Australia, where Ian Martin, General Manager – Trade, says shipping costs have doubled over recent months, from about $5,000 to anywhere between AUD $9,000 and $11,000 per container.
"Those costs, together with rising petroleum prices, are driving significant increases in the cost of raw materials including plastic, strapping, steel, aluminium and more," he adds, illustrating the flow-on effect which Bőttcher CEO Mitch Mulligan says has led to several rounds of consumables price rises, which suppliers understand are biting businesses hard.
So, too, are the delays caused by supply chain disruptions which is not only stymying deliveries but increasing production lead times for many manufacturers.
"Lead times on some capital items have jumped from 10 weeks before the pandemic to more than 26 weeks in some cases, due to component issues causing disruptions to supply," reports Ben Eaton, CEO of Starleaton, while Martin says Ferag and its partners production times have increased from 4-6 weeks pre-pandemic, to between 12 and 16 weeks. "Over the same time, sea freight lead times have almost doubled from an average of 6 weeks to between 8 and 11 weeks today – that's directly due to the impacts of COVID, and there's no immediate relief on the horizon," he says.
The challenge for suppliers is real, and Wagener sums up the dilemma, saying, "We know we are not alone in facing these kinds of increases, but they're obviously not costs we can simply absorb; we have to pass them on to our customers. That's obviously not popular, no matter how necessary."
Flattening the Curve
To mitigate these impacts, suppliers are working closely with their customers and manufacturers to at least 'flatten the curve' of spikes.
Eaton says his company moved quickly to have its key media supply partners move consignment stock into both its Australian and New Zealand operations. "It was key that goods were in this part of the world to avoid supply shortages, should the pandemic not have eventuated the way that it has," he says. They've taken a similar approach with equipment manufacturers.
"We've increased the volume and frequency of forward orders for consumables, working on the premise that you can always slow ships down, but you can't speed them up," Eaton explains, "and have worked with equipment manufacturers to increase forecast information and even to place forward orders without firm customer orders in hand, just to secure the manufacturing slot."
This has enabled Starleaton to pull local lead times back to almost standard, and given its customers the ability to place orders against future manufacturing slots as required. "I'd rather have excess stock ready to ship at the point of manufacture, than be advised that materials shortages meant no availability," Eaton says.
Mutoh, Bőttcher and Euro Poles are also holding more stock on indent these days, with the latter also focusing on automation efficiencies which will help counter cost rises, while Martin mentions Ferag has also moved to identify suitable substitute products for its customers, if regular options are not available, as well as closely monitoring the supply chain and even "de-shipping" containers at intermediate ports to ensure continuity of supply.
The Ukraine Factor
The looming factor, of course, is the evolving situation in Europe. Exactly what impact this will have is as yet unclear, but it's fair to say no-one is expecting it to improve the situation.
"While we are starting to see a levelling off in costs, we just don't know yet what the impact of the war will be, but it's important to remember this is not just impacting the print sector; it's across all industries," says Martin.
Eaton admits there's a real sense of nervousness, particularly around product manufactured in Europe.
"Production delays are already compounding lead time blow-outs and, while raw material shortages had started to improve – albeit with higher manufacturing costs driven largely by rising energy costs – the current situation in Ukraine is an unknown," he says.
"For now, our plan is to stick with the strategy we've employed successfully during the pandemic and, if the conflict ends swiftly, as we all hope it will, the worst outcome is that we will be overstocked for a short period; a vacuum in supply, on the other hand, would be catastrophic."
Cavenagh agrees, saying parts and components had been very difficult to obtain even before Russia invaded. "Now, the war will likely drive increased energy prices, pushing air freight costs even higher, while sanctions could also impact on supply chains, particularly out of Europe. This will continue to put pressure on lead times to business."
Energy is also a concern cited by Mulligan, who says, "If Russia's supply of gas to Europe were terminated or interrupted, there's no question that production capacity will be affected and replacement fuel will become very expensive, and that will put more pressure on pricing and inflation.
"It's an unfortunate situation on so many levels, but there's no avoiding the fact that businesses – whether suppliers or industry service providers – should be bracing for more of the same until such time as the situation stabilises."
Planning & Communication the Key
So, what can businesses do? "The solution we've found to almost all of this is planning" and communication," Wagener advises. "Don't rely on someone else – you have to be prepared to carry more stock, and plan ahead; just-in-time doesn't work in the current climate; you have to go back almost to an 80s or 90s model of stock holdings."
Eaton concurs, saying the days of an oversupply of choice and the benefits of JIT delivery are over, at least for the moment. "One of the great outcomes for us over the past couple of years has been our ability to work with businesses to bring focus to certain product lines, readjust delivery expectations and open up dialogue around forecasting," he says. Martin and Cavenagh back this position, saying an understanding of customers' production demands through forecasts and forward orders is vital for them to predict, plan and meet demand
"Having said that, if you are able to increase your own inventory, I would say do so, as soon as possible," Cavenagh adds. "The stresses of the next few months will likely involve increasing your trade finance facilities as cash will be tied up for longer, but it will pay dividends in terms of business continuity."
Mulligan advises realism and risk assessment, too. "Factor in inevitable shipping and cost-of-goods increases and make sure you do a full risk assessment so you know exactly what your exposure is," he urges.
Above all, Harper says all Visual Connections members agree on one thing – information is power, and the more you have, the better position you will be in. This is where PacPrint, scheduled for Melbourne at the end of June, is ideally timed to help businesses formulate and action a response to these multiple challenges.
"Rising costs will continue to put significant pressure on print as the end-customer's choice of media channel and, therefore, print service providers' ability to innovate and diversify becomes even more critical," he says.
"Suppliers may have limited control over the rising costs of raw materials or shipping, but what they do have is the ability to support and resource your business with technology and solutions which ensure print, in all its forms, continues to be front of mind as the go-to channel of choice for your customers."
With nearly 70 companies already signed up to exhibit in Melbourne, Harper says PacPrint is a must-attend event, but urges business owners not to wait until the show to connect with their suppliers.
"Successfully responding to these challenges will require you to stay on top of global trends and market movements and to inform and equip yourself to champion print as a vital and valuable part of the marketing mix.
"Your suppliers have their fingers on the global industry pulse, so they're ideally placed to help you navigate through the coming weeks and months with information and ideas on how to not only survive these challenges, but to grow your business with profitable products and revenue streams."
---